Fast Professional Service Since 1978
The Geerts Story
Geerts Plumbing and Heating Inc. has been serving New Hampton, Fredericksberg, Lawler, Nashua, Charles City, Alta Vista, Elma and the surrounding area since 1978. We provide services including plumbing, heating, air conditioning, well pump work, water conditioning, septic systems, underground water and sewer lines, gas fireplaces and geothermal.
Geerts is an innovative company that remains rooted by family values. Over the years, we've expanded and moved to larger locations three times. Our current location is over 11,000 square feet complete with a showroom. Today, we have over ten employees dedicated to our tradition of providing quality craftsmanship and service.
Even though our capabilities have changed over time, some things remain constant. Providing great products and exceptional service has always been our priority. Geerts Plumbing and Heating has always been a family-owned business and will continue to be under the ownership of Adam and Brenda Geerts.
We have expanded our well pump division to better serve our customers. Geerts has three Iowa DNR certified well pump installers on staff to assist with your unique projects. We work on all types of well pumps and water systems.
We are here for all your Plumbing and Heating and Well Pump needs 24/7. If you haven't used our services in the past, please give us a try—you'll appreciate the level of professionalism and courtesy you receive. Call us now at (641) 394-3369!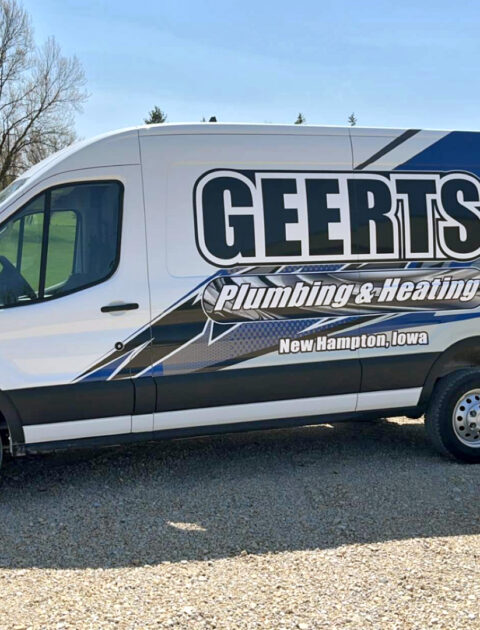 Geerts Service Experts
Meet Our Team
OUR RECOMMENDED
Brands & Products
Testimonials
What Your Neighbors Say
We contacted Geerts this afternoon because we smelled gas in our furnace room. DJ came to our home within 10-15 minutes and also notified Dan from Black Hills Energy, who… read more responded promptly and did awesome as well! They searched for the source of carbon monoxide in our home and DJ & Avery had a new water heater replaced (after hours) in our home within 3 hrs after finding the source. These guys are true life savers and we so appreciate them all being on call 24 hrs a day 365 days a year to take care of us and our community! They are professional, positive, friendly, and we can't say THANK YOU enough!! God bless you all!🙏🏻😊

Mary Laures


July 16, 2023

We had an extensive listing of plumbing projects to be completed. We worked very closely with Lisa in all of the planning. Steve L. was very thorough and detailed in… read more all of the work he performed, explained everything, and answered the many questions we had. He was a great person to work with – very pleasant and informative. Dylan and Jacob were also effective apprentices. Overall, we were happy to work with the Geerts team.

Jarrett Corr


June 19, 2023

Geerts has done all my work forever and I have never had any better service then any type of business from from office manager Lisa to President Adam and… read more all employees. Very satisfied!

Bob Galligan


May 25, 2023

Always friendly and prompt. Have always had great luck with them. DJ is very knowledgeable and helpful.

Tim Glaser


May 18, 2023

Had prompt service, very professional and had great suggestions for adjusting capping off water lines that we no longer use to have options for future use! I appreciate that!… read more We have used Geerts Plumbing for years because of their prompt, efficient friendly service! Steve Lensing, thank you!

Connie Straw


May 8, 2023

We recently built a home utilizing the professional services of Gerts Plumbing and Heating. It was a great experience from the planning to the finished product. They kept it… read more low stress and on point. Their installs are better and cleaner than any I've seen. Thanks Gerts

Shane Fountain


May 8, 2023

Lisa provided expert guidance in helping me choose my faucets and items associated with my kitchen remodel. She provided a detailed, accurate quote of the job. Justin and Jesse provided… read more prompt, knowledgeable service in getting a new dishwasher and faucets installed. They arrived on time. Thanks for your hard work!

COLENE SASSMANN


May 8, 2023

We have had Geerts Plumbing and Heating for many projects. On our latest project, a bathroom remodel, Justin did an outstanding job with the installation of our new shower, cabinet,… read more and counter top. He was very professional and courteous and on time. He is very particular about his work and cleans up after the job is done. He and Geerts Plumbing and Heating are highly recommended. We will have them for future service if needed.

Dean Gebel


May 8, 2023

Shout out to Geerts plumbing and heating. Always experienced prompt, courteous, and a job well done.From the time I call and talk to the secretary I have a the crew… read more at the house to fix the problem. I always enjoy seeing Justin and DJ and the entire crew! Well, not really that means I have plumbing problems ha ha !!

Pat Weigel


May 8, 2023

DJ was very professional and helpful when moving and adding duct work in tough conditions. Can't say enough good things about his service.

Dustin Lechtenberg


May 8, 2023
Frequently

Asked Questions

FAQ